NexaHome enables multiple ways of controlling remote receivers. It is easy to start using and has many special features.
Download
Right click the following link and choose to save the file on your hard drive (change to "jar" even if the program suggests "zip" as the file format):
Description
The program works in both Windows and Linux and has the following fundamental features:
Scheduling, on/off for units that have been added in TelldusSetup
It can be run in different modes (home, party, away etc.)
Automatic adjustment of the specified time (random)
Times can be configured in reltion to sunrise and sunset
Outer censors can be used to decide when it is time to turn units on and off
Manual command via Internet via a web browser or a mobile phone (WAP) is possible
A general interface makes it possible for less computer interested users to simply use this software with other softwares in the computer.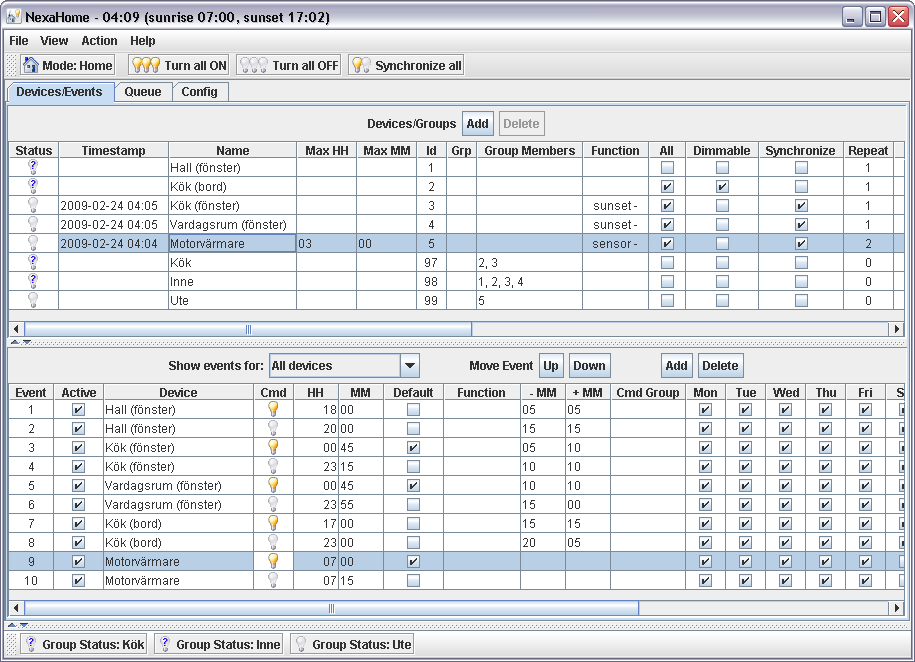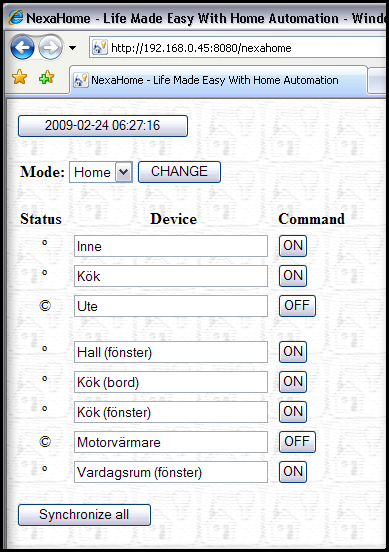 Your own home automation page on the Internet
Installation instructions
If you not have not already installed the software "Java Runtime Environment" on your computer you have to download and install it from java.com.
Start by configuring your remote receivers in TelldusSetup.
Then download NexaHome and put it in a library.
Click the jar-file to start. Please have some patience the first time you start the program. The units are found and collected automatically which may take a few moments. Save your changes by choosing the menu alternative "File --> Save".
Tips
Please enter the forum on  www.telldus.com and read the thread about  NexaHome.
Links
Thanks to